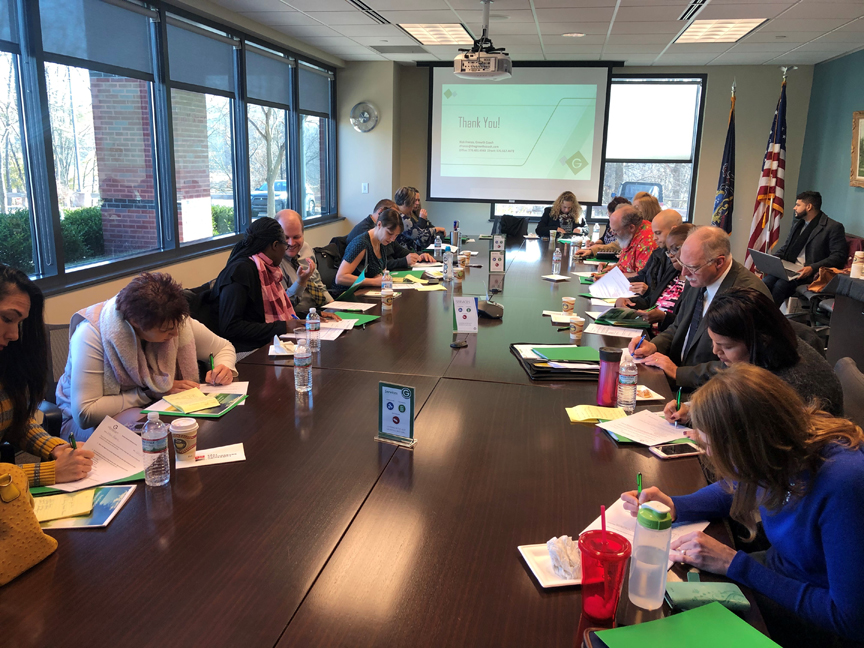 Volunteer leaders work together on various Chamber committees or in other ways to enhance our quality of life and promote progress. As Monroe County continues to grow each year, so does the scope of the Chamber's work. Becoming a volunteer with your Chamber is an excellent way to network, get involved, and make a difference in your Chamber and in your community.
For more information, or to get involved with any of these committees, please contact your chamber team at 570-421-4433
Women in Business Committee: This committee supports, promotes, and empowers the women in the business of the Pocono Region. We strive to provide opportunities for women to connect with and support each other through programs and events that contribute to the professional development of our members. We facilitate member success through business and career growth as well as networking opportunities for women to increase their professional capacity and develop a support system.
Mission – Guiding, teaching, and supporting women in business so they can be their authentic selves, feeling confident and powerful in the workplace!
Watch our Women in Business "I AM" Video produced by We See Productions!
Women in Business Scholarship Program:
Did you know that the Pocono Chamber of Commerce has a Women in Business committee which provides two scholarships annually? One is granted to a graduating high school student and the other to an adult professional looking to continue in her educational endeavors!
----
Woman in Business Award:
The Pocono Chamber of Commerce, in partnership with their Women in Business Council, is proud to announce the return of the Woman in Business Award!
In line with the mission of our council, the 2023 Pocono Woman in Business Award shall honor an established female leader who inspires and motivates other women to reach their full potential. Furthermore, she shall demonstrate excellence and initiative, both personally and professionally.
Highmark: A Proud Partner of the Pocono Chamber's Women in Business Initiatives

"Pocono Leaders of Tomorrow" PLOT Committee: This committee was created to bolster emerging and established young professionals. The goals are to focus on professionalism, leadership, and community service, to cultivate and promote career growth and to provide a professional arena for those young, professionals, young-at-heart, or new in their career. The committee will plan networking opportunities as well as community projects that solve a problem/issue. All members welcome.
Mission – The PLOT Committee is a thriving diverse group of individuals committed to their community, cultivating networks and developing opportunities for personal and professional growth.  We are passionate leaders of tomorrow dedicated to enriching lives.
Vision – The PLOT Committee will demonstrate community commitment to Monroe County's young professionals through service and advocacy; by holding events, providing resources and networking opportunities for young professionals and encouraging professional development opportunities for members.
West End Committee: This committee works to promote prosperity and membership in Monroe County's West End region, through the Chamber's mission and objectives. We strive to encourage travelers and locals alike to visit and patron the businesses of the Pocono's west end.
Public Policy Council: We work diligently to keep abreast of legislative issues on local, state, and national levels. We select those issues having an impact bearing on our business and membership. After appropriate committee action, present issues to board for acceptance, rejection, tabling, or no additional action. We make it a point to ensure those appropriate legislators, and/or legislative bodies are made aware of Chamber action and lobby on behalf of the actions taken. The committee advises the Chamber Board of Directors on public policy issues that impact Chamber members and our community.
Education Committee: Consistent with the goals and objectives of the Chamber of Commerce, this committee promotes all phases of career education and training. In any one year, this will include some of the following: career reference systems, cooperative partnerships, continuing education, mid-career changes, field trips, school career days, workforce re-entry, coordination of available training programs, career awareness, special events, career counseling, lectures, tutoring, and goal setting.
Cocktails and Cuisine Committee: The goal of this committee is to highlight the food and beverage industries in Monroe County with fun and educational events including restaurant weeks, winery tours, group outings, and more.
Multicultural Committee: The goal of this committee is to spread awareness of DEI initiatives in Monroe County and beyond by fostering community-centered events, roundtable discussions, festivals, and more.
Membership Committee: This committee will work to build and maintain relationships in the Chamber membership as well as discuss ways to add value to your chamber membership.
Major Events Committee: This committee will focus on many of the chambers major events including event planning, prep, and day of coordination.
These events include: Golf Tournament, Bizzy Awards, Pickle Me Poconos Festival, and more!
For more information about our Committees, please contact the Chamber at 570-421-4433
**Inclement Weather Policy** If Stroudsburg Area Schools are closed, events and committee meetings will be canceled.