About the Pocono Chamber of Commerce
To advance the Monroe County area through the encouragement and promotion of business and industry. To serve our members and community while providing value and support. To create and foster the exchange of experiences and ideas while making connections and deepening relationships.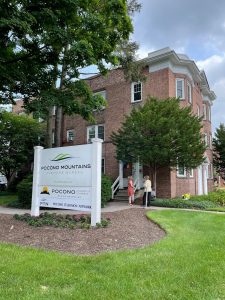 Originally known as the Stroudsburg Industrial Club, the Chamber received its charter on June 25, 1910 from the State of Pennsylvania. Even then, it held the industrial and mercantile interests of the region at heart. As noted in its charter, the corporation was formed "for the purpose of establishing a body with authority to deal with matters of interest to the general public of the Borough of Stroudsburg by promoting prosperity of the mercantile and the manufacturing enterprises of the community."
As Stroudsburg grew from a borough to a prosperous town, the Industrial Club changed its name to reflect the expanding scope and purpose of its organization. On December 15, 1919, it became officially known as the Stroudsburg Chamber of Commerce. That name changed twice again during the 20th Century as the region expanded and, with it, the Chamber's duties. In 1932, it became the Monroe County Chamber of Commerce. And then on April 2, 1948, it became the Pocono Mountains Chamber of Commerce.
Today, we are the Pocono Chamber of Commerce, "The Voice of Business since 1910". As the times have changed, so have we. Today we offer our membership a wide variety of networking opportunities, interactive workshops and seminars plus discounted marketing and advertising. One on one business counseling is available for start up businesses, those expanding as well as those relocating to the area.
We face relevant business issues each day and support sustainable economic growth and advocacy consistent with the best interest of the community. We welcome both small and large businesses to join us make our region prosper.
Our Commitment to Business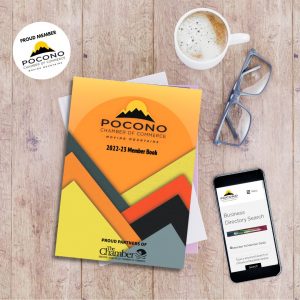 As servant leaders, we listen to our membership and care about your needs. We approach issues relevant to you, your business, and the community as a whole. Whether it be legislative issues, educational concerns, one on one counseling, or more networking opportunities, we are your Chamber. We take pride in offering avenues for us to hear from you.
Our ongoing workshops and seminars cover the basic business principles to the hottest topics of today. Area experts share their experiences and knowledge in areas such as marketing, networking, sales growth, best practices in hiring, etc.
For additional information please call us at 570-421-4433.
We look forward to supporting with you!
Michael Straub, Michael Straub Photography
"The chamber has great people the amazing energy! I have made many connections and see my business growing because of it!"
Tom Sforza, Best Auto
"The Pocono chamber has many great businesses and people in it. Every month there are many things going on like business card exchanges, women in business, young professionals, seminars etc. If you want to network and grow your business you need to be part of the Greater Pocono Chamber."
Lisa Diemer, Kitchen Chemistry
"The Pocono Chamber of Commerce has been a wonderful way to promote my business. I attend the Women In Business Luncheon regularly and have networked with business owners of all levels and gained many clients from these meetings due to word of mouth."
Sarah Raley, Social Seed Media, LLC.
" I applaud The Chamber for providing invaluable best practices and staff who have gone above and beyond in dedication to re-gear our Chamber for fiscal success securing a future for the organization's work. The Pocono Chamber of Commerce is a vibrant organization which provides so many opportunities for professional growth and networking across our entire region.