NETWORK
with Local Business Owners
EXPAND
Your Knowledge - FREE Business Seminars
PROMOTE
Your Business Within Our Community
Welcome to the Pocono Chamber of Commerce

Pocono Party Rentals is owned by 3 enterprising ladies from New York. A family-managed, and God-led business since 2008. We have previously served the New York and New Jersey areas.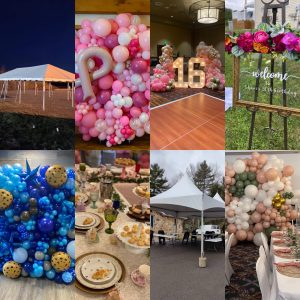 Since living in the Pocono Mountain region for the past 16 years we have focused on serving the local community by helping to create great memories through our event planning expertise. In August 2018 we were blessed with the opportunity to purchase The Party Shack which has been serving in the region as a party and tent rental business for over 30 years.
The previous owners, Diana Blickendorfer and Ingrid Johnson, were pioneers of the community, establishing a successful party rental business in the Pocono Mountains region. Through our many client interactions in event planning, we realized that clients can easily become overwhelmed when planning an event. Based on that realization, we decided the best way to serve the clients in our region was to merge and expand both of our businesses. We now offer our clients the comfort of dealing with one vendor for all of their party and event needs. Our mission is to serve as one team, working diligently to deliver the best service and quality rental products. Our main goal is to serve our clients by exceeding customer expectations through excellence in service.
We can provide everything needed for your celebration or any other type of event, including private parties, weddings, and corporate gatherings. We offer our services to wedding & event planners, caterers, local businesses, and residential clients. Examples of our rental inventory include items such as tents, tables, chairs, table linens, tableware, serve ware, centerpieces, photo backdrops, and so much more. We offer balloon displays such as balloon arches, balloon garlands, balloon bouquets, and any other balloon features our clients can imagine for their events. Our friendly and supportive event specialists are always available to assist you. Their main objective is to ensure your celebration runs smoothly and is unforgettable from start to finish. The Party Shack, with our expanded services and products, is Pocono Mountain's one-stop shop for rental supply and event planning.
Check out our website www.thepartyshackkpa.com or come see for yourself our showroom at 552 Main Street, Tobyhanna, PA 18466. If you prefer to speak directly to one of our specialists, give us a call at 570-839-8560. When contacting us for your event planning or rental needs, let us know you are a chamber member to receive exclusive member discounts.
Due to the high demand for balloon displays, we will be launching Pocono Balloons by The Party Shack in 2023. See our launch display at the Pocono Chamber of Commerce 2022 Annual Dinner.
Volunteer:
Get Involved and Make a Difference
Volunteer leaders work together on various Chamber committees or in other ways to enhance our quality of life and promote progress. As Monroe County continues to grow each year, so does the scope of the Chamber's work. Becoming a volunteer with your Chamber is an excellent way to network, get involved, and make a difference in your Chamber and in your community.
For more information, visit our Committees page or contact the Chamber team at 570.421.4433!