Welcome to the Pocono Chamber of Commerce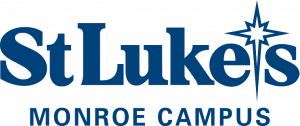 The St. Luke's University Health Network Monroe Campus welcomed its first patients in 2016 and is located just off Route 611 in Bartonsville. The hospital features private patient rooms including beds for critical care patients, a large and efficient emergency room, a helipad, state-of-the-art operating rooms, a cardiac catheterization lab and the most modern diagnostic technology.
The St. Luke's Monroe Campus is in the middle of an expansion project that will double the size of the existing hospital upon completion. The new four-story, 165,000 square-foot patient care tower is scheduled to open in early 2024 and will house a 36-bed medical-surgical unit, additional operating and procedural space, expanded outpatient services, and a state-of-the-art interventional radiology suite. It will also house shell space for future services. In keeping with St. Luke's tradition, the addition has been built with American-made steel.
"Our expansion is symbolic in that it represents yet another step in the promise and commitment we made to provide better health care services close to home for the residents of Monroe County," said Don Seiple, President of St. Luke's Monroe Campus. "Our investment in growth is fueled by the trust the residents of Monroe County have in our providers. It will also allow us to meet the projected demand for our expert care in the future."
St. Luke's Monroe offers more than 30 different outpatient services at 7 outpatient locations throughout the County. The Monroe Campus earned Medicare's five-star rating (the highest) for quality, efficiency and patient satisfaction. It also earned an "A" for hospital safety, and was ranked number 2 in the state of Pennsylvania, and number 18 in the Nation for social responsibility by The Lown Institute Hospitals Index.
Volunteer:
Get Involved and Make a Difference
Volunteer leaders work together on various Chamber committees or in other ways to enhance our quality of life and promote progress. As Monroe County continues to grow each year, so does the scope of the Chamber's work. Becoming a volunteer with your Chamber is an excellent way to network, get involved, and make a difference in your Chamber and in your community.
For more information, visit our Committees page or contact the Chamber team at 570.421.4433!