Welcome to the Pocono Chamber of Commerce

Highmark Blue Cross Blue Shield is committed to building strong, healthy communities in the areas we serve, and we have a long history of supporting non-profits in the Poconos. For many years, we have supported the local American Red Cross chapter by sponsoring its annual telethon, as well as the Sound the Alarm Home Fire Campaign that installs free smoke detectors for area residents. Highmark is a long-time sponsor of the Pocono Community Fundraiser event that has raised millions of dollars for local nonprofits. Highmark also has a long history of support for the local United Way and its programming.
Across our footprint, we're continuing our work to improve the health and well-being of those we serve by giving back to, reinvesting in, and strengthening the communities where our customers and employees live, work and play.
Highmark Inc., doing business as Highmark Blue Cross Blue Shield, serves approximately 2.6 million members through the company's health care benefits business and hundreds of thousands of additional members through the BlueCard® program. Highmark Blue Cross Blue Shield is the market leader in commercial market share, and through its affiliated Blue companies has strong Medicare Advantage market share as well. All of Highmark's Medicare Advantage plans in Pennsylvania achieved the highest possible quality rating from the Centers for Medicare and Medicaid Services (CMS) - 5 out of a possible 5 Stars. In western Pennsylvania, its unaided brand awareness, brand preference and overall brand rating are significantly higher than its closest competitor. Highmark Blue Cross Blue Shield employs approximately 4,500 people in western, north central and northeastern Pennsylvania. Highmark Blue Cross Blue Shield's total economic impact throughout Pennsylvania is more than $16 billion. Highmark Blue Cross Blue Shield is an independent licensee of the Blue Cross and Blue Shield Association, an association of independent Blue Cross and Blue Shield companies.
For more information, visit www.highmark.com.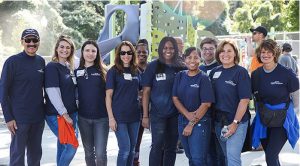 Volunteer:
Get Involved and Make a Difference
Volunteer leaders work together on various Chamber committees or in other ways to enhance our quality of life and promote progress. As Monroe County continues to grow each year, so does the scope of the Chamber's work. Becoming a volunteer with your Chamber is an excellent way to network, get involved, and make a difference in your Chamber and in your community.
For more information, visit our Committees page or contact the Chamber team at 570.421.4433!